Sharp is a well-regarded brand for televisions who have a long history of making quality consumer electronics. They're up there with the big 3 "S brands" alongside Sony and Samsung.
But if you're having issues with your Sharp TV, it really doesn't matter what a solid brand their are, or how good most of their TV's are, because in that moment you really just care about your own Sharp TV and fixing the problem you're having.
If you need to reset your Sharp TV for any number of reasons, here's a quick and helpful guide on how to do that, along with some additional information that may prove to be very useful as you seek to troubleshoot whatever issues you're having.
Soft Reset Sharp TV Without Remote in 4 Steps
This simple reset is meant to fix lots of common errors, bugs, and glitches that you might be experiencing. When you have problems with your Sharp TV (or any other brand, for that matter) is is usually the first thing that you should try. It's not always going to fix every problem, but it's easy enough that it's the perfect starting point because it usually works.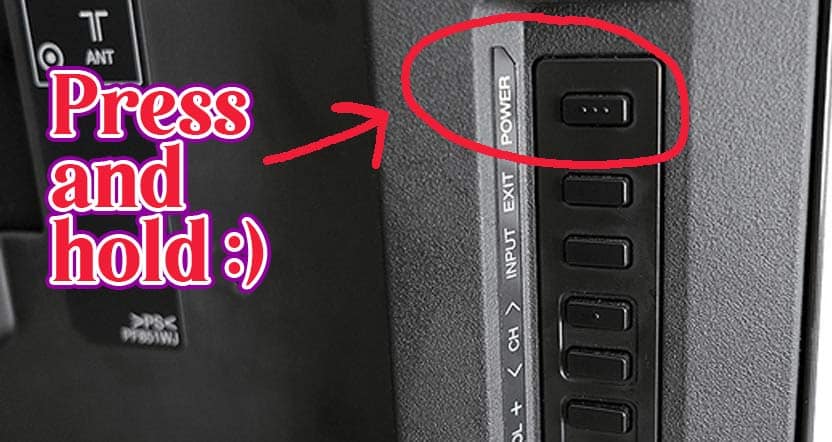 Unplug your Sharp TV's power cable from the wall outlet/electricity source.
Hold the power button on your TV for around a minute.
Leave your TV alone for a few minutes.
Plug your TV back into the wall outlet.
This gives your TV a chance to take a breather, so to speak. The reason that you hold down the power button is because there are electric capacitors inside your TV that will hold onto a charge otherwise, and we want to clear those out and holding the power button ensures they're adequately discharged.
It's not always necessary to fully discharge the TV's internal electrical components, and you won't always need to let it sit for a few minutes, but these extra steps can increase the odds of this working this first time and we're all about doing things right the first time.
If this hasn't solved the issue you're facing with your Sharp TV, don't worry! The good news is that even if you're missing your remote, you can still use the buttons on the TV itself to access the menus and do a full factory reset. What we did in this first step is basically a "soft reset", it can fix minor issues, but if there's still
Factory Reset Sharp TV Without Remote
When you factory reset your Sharp TV without a remote, it basically returns the television to it's factory state. This means it's going to be the same as it was when it first left the factory floor, or in the same condition it was when you first bought it and brought it home (unless there's any actual physical damage or broken parts, in which case, a factory reset probably won't get the job done, and you'll need to look into repairs or a new TV altogether. But lets' start with this…)
Unplug your Sharp TV's power cable from the wall outlet.
Press and hold the channel down button and the input button on your TV at the same time. These buttons will be located near the front or bottom of the TV most of the time.
While continuing to hold these buttons, plug the TV back into the wall. You might need a helping hand for this.
The TV should power itself back on after a few moments, otherwise try pressing the power button.
Once the TV is on, look for the menu called Service Mode. There should be an option that says Factory Reset.
Navigate around the menu using the channel up and channel down buttons, select Factory Reset, and then confirm the factory reset and follow the instructions on screen.
If you're having trouble holding the channel down and input buttons at the same time as you plug the TV back in, there's a trick to make this easier. You can run an extension cable from the wall outlet to the front of your TV, so that you can hold the buttons with one hand, and plug the TV into the extension cord/power stripe with your other hand. It's a lot harder to do this if you're trying to reach behind the TV and maneuver your way around.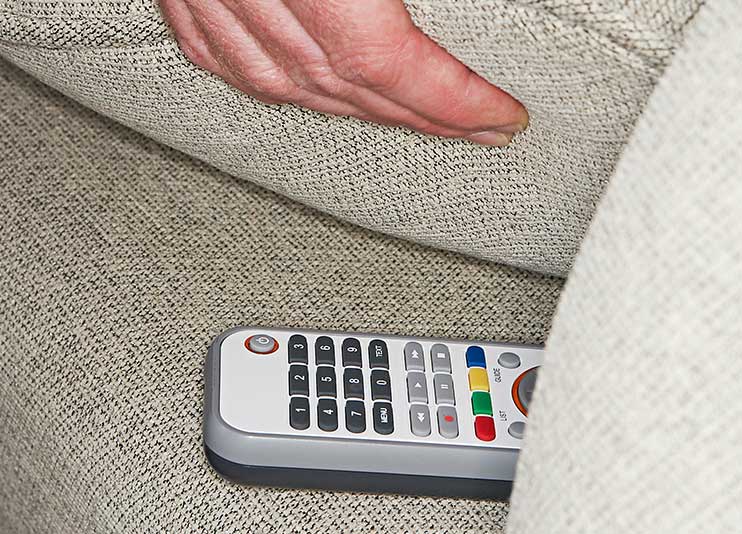 Alternative Methods to Reset Sharp TV Without a Remote Control
If your TV lacks the proper buttons on the front (rarely, if ever) or the other method to reset your Sharp TV without a remote isn't working, we don't want to leave you high and dry so here are some other things to consider…
You can get a replacement if your remote is broken. You can either contact Sharp if your TV is still under warranty, or if your warranty period is over, they might sell you one or just help you out and send you one for free, if you get a little lucky when reaching out to their support reps.
Otherwise, you can buy just about any universal remote for around $10-$20, program it to work with your Sharp TV (it will come with instructions on how to do this – it just takes a couple minutes), and then you can access the menus on your Sharp TV using an actual remote. Granted, this isn't technically "resetting a Sharp TV without a remote", but it's still a helpful tip for someone who lost their original remote, or whose remote control is broken.
Remember: There are many different Sharp TV's out there, they don't all have the same menus or methods to fix things. We aim to provide universal advice to help as many people as possible, but there are some niche cases where that advice won't work. If this article was helpful, let us know… But most importantly, let us know if it wasn't helpful, so that we can improve it. If you found a fix that wasn't listed here, we want to add it to our resources. Our goal is that every single person who lands on this page looking for help to reset a Sharp TV without a remote will find a solution that works, but we can't do that without your help!