So, you can't find the remote for your Panasonic TV? Maybe it's lost forever, or maybe you're someone who loses and finds your remote on a daily basis and you're finally sick and tired of this game of cat and mouse and you're looking for a more permanent solution.
Whatever your reason is for landing on this article, I promise you that you've found the most comprehensive guide to how to turn on your Panasonic TV without a remote. We'll cover every possible method. Some of these are common, and some of them are quite clever. Either way, you don't need to go anywhere else – we've got you covered.
See also: Here's an article that can help you when your Panasonic TV won't turn on.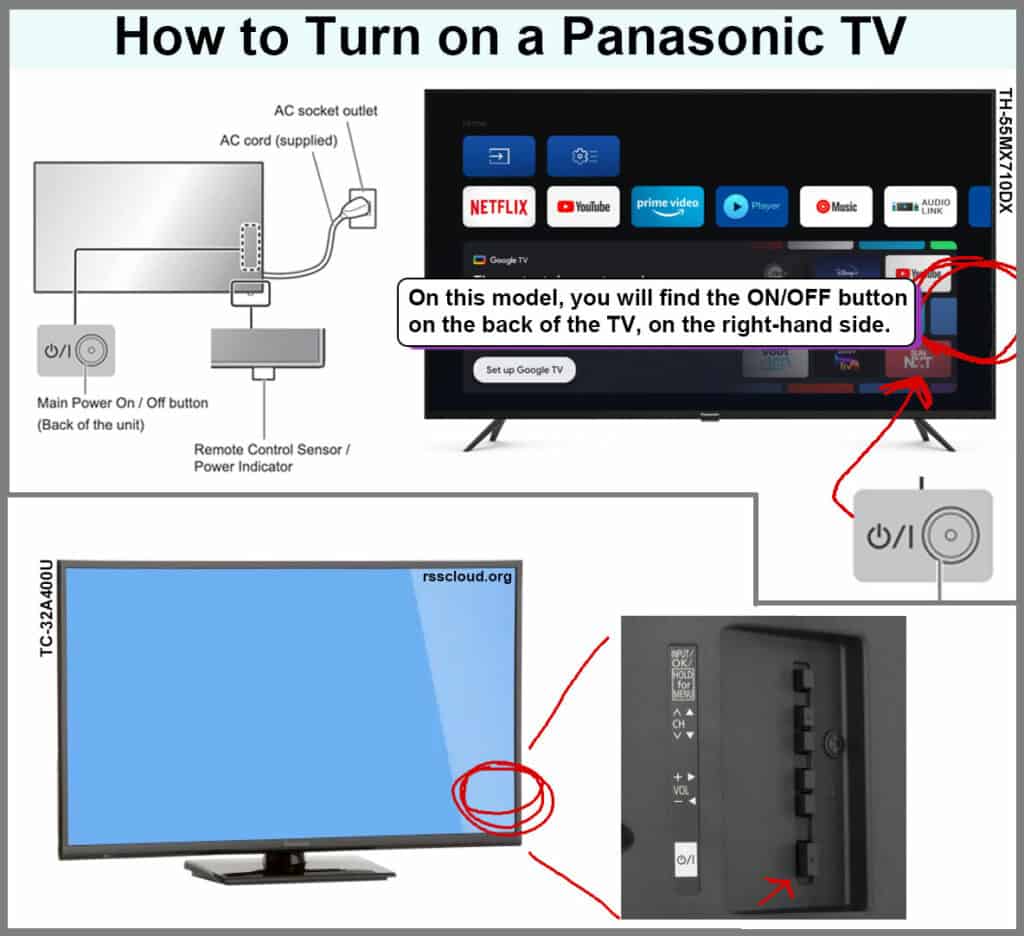 7 Ways to Turn On a Panasonic TV Without a Remote
Wondering how to turn on a Panasonic TV without a remote? Here's a handful of different options. Some of them are techier than others, but there's a solution for everyone, including how to adjust the volume without a remote, how to change inputs without a remote, and anything else you might need a remote for when you've lost your remote.
1. Using The Buttons On Your Panasonic Television Itself
If you're missing your remote, you can use the power button that's on the front of the TV itself.
This isn't very convenient, since you need to get up and walk over to your TV whenever you want to turn it on or off, but it works in a pinch and it's great if you're looking for an excuse to get a little extra movement. Plus, you can simply turn it on when you sit down to watch TV, then turn it off when you get up to do something else.
The location of the button will vary from different models of Panasonic televisions, but you can generally find the power button on the front of the TV, or just below on the bottom. Sometimes, it can be on the side of the television.
A quick visual inspection of your television should be enough to locate the power button.
2. Using Your Smartphone To Control Your Panasonic TV Without a Remote
Do you always have your cellphone next to you while you're watching TV? Then getting a remote control app to control your television is a no-brainer. When you lose your actual remote, you can just grab your cellphone to turn on your Panasonic TV.
Panasonic has an official remote control app for iPhones and Android devices. You can download this app to your phone, ensure that your TV and your phone are connected to the same WiFi, and follow the on-screen instructions to set it up.
Keep in mind that older TV's, in particular ones that aren't smart TV's, won't be compatible with this option since they won't be able to connect to the WiFi. In those cases, if you have a phone that has the IR feature, you can still use an app to program your phone like a universal remote to send infrared signals to your television, but most cellphones don't have an IR blaster feature built-in, unfortunately.
3. Using a Universal Remote
Speaking of universal remotes, if your cellphone doesn't have the ability to function as a universal remote or if your TV doesn't support using a phone as a remote, your next best option is to get a traditional universal remote.
Universal remotes are very affordable, and relatively simple to setup. In most cases, you just need to reference the instruction booklet that comes with it, which will tell you the remote codes for your brand of TV, and then it's a matter of trial and error.
Newer universal remotes can also test out different remote codes themselves, taking out of lot of the work. If you still have your Panasonic remote, you can also use that to train your universal remote, so sometimes it's a good idea to get a spare universal remote setup before losing your main remote (easier said than done though, right?)
4. Using The HDMI-CEC Feature on Your Panasonic Television
Potential HDMI-CEC devices whose remote you can use to turn your Panasonic TV on and off: Blu-ray players, soundbars, gaming consoles, DVD players, cable boxes, and more.
HDMI-CEC stands for "consumer electronics control" and it's a feature that allows you to control various devices with a single remote control, if they're connected via HDMI. It's great for home theater situations where you have a number of devices and you don't want to use a different remote for each one.
If you've ever used a TV set top box of some sort that was also capable of controlling your main TV features such as power on/off, volume, etc – then you may have already been using HDMI-CEC technology!
So, in summation, this fix is basically to find a different remote that you already have, that is also compatible of turning on your Panasonic TV without the official Panasonic remote. If you don't have another device whose remote you can use, don't worry, there are plenty of other fixes that we're going to be looking at.
Enabling HDMI-CEC on Your Panasonic TV
Most Panasonic TV's will have this feature enabled by default so you won't need to turn it on manually. On Panasonic TV's, it might be called "VIERA Link", so if you see that, it's the same thing, essentially.
If you need to turn on VIERA/HDMI-CEC manually, or if you want to disable it, here's how:
Go to MENU/SETTINGS on your Panasonic TV.
Look for the HDMI-CEC/VIERA LINK options menu.
ENABLE this setting.
5. Using Power On Timers
If you want your Panasonic TV to turn on without a remote at the same time each day, and/or to turn off at the same time, you can setup timers to turn your TV on and off.
This is how to turn your Panasonic TV on and off without a remote control, but the fact that it requires you to pre-program a timer which turns your TV on at the same time each day means this isn't an adequate replacement for people who need an alternative to their remote control no matter when they want to watch TV, without setting up such a specific schedule.
But if this is a good fix for you, then you'll simply need to navigate to your TV's SETTINGS, look for anything related to TIMER, POWER SETTINGS, etc. The exact labels of each menu item will depending on the model of your TV, so we're just giving you broad instructions here – but you'll be able to figure it out. Just go into your TV's MENU or SETTINGS, and look for anything relating to setting a timer, power on/off settings, and so on and so forth. Look around for a minute, you'll find it!
6. Using Smart Assistants and Voice Control To Turn On a Panasonic TV Without a Remote
If you have a smart assistant, such as an Amazon Alexa, Google Assistant/Google Nest, Apple Home, a Roku, an Amazon Firestick, and a number of other devices, you can use those to turn on your TV with voice control.
You could sit down on your couch and say, for instance, "Hey Siri, turn on my TV" or "Hey Alexa, turn on my TV and open Netflix".
It can be very handy to have one of these devices connected to your TV because it allows you to turn on your television without having a remote control, but some of these devices even have their own remote controls which gives you an added bonus of flexibility.
7. Using a Raspberry Pi or Arduino
This is the most techie/nerdy solution, this won't be a viable option for most people but if you're into tech, electronics, and DIY projects then this could be a fun path to go down where you're essentially building your own universal remote.
That's How To Turn Panasonic TV On Without Remote, Need Any More Help?
That that we've covered numerous ways to turn on a Panasonic TV without a remote (or alternatives to try if you've lost your Panasonic TV remote), we want to ask – did you find a suitable solution here? Our goal is to cover as many different options as we can, so that you won't leave "empty handed", per se, by the time you've finished one of our articles.
Even if we don't have a perfect DIY fix for you, at the very least, we want to help point you in the right direction and never to be a dead end. If you know of any better ways to turn on a Panasonic TV without the remote control, please let us know because we're always working hard to keep our articles and guides up to date.
Extra Tips for Operating a Panasonic TV Without a Remote
Once the TV is turned on, you'll probably need to do other things with it, right? For example, if you need to access the menu of your Panasonic TV without a remote, here's some additional advice…
How to Get to MENU on Panasonic TV (without remote)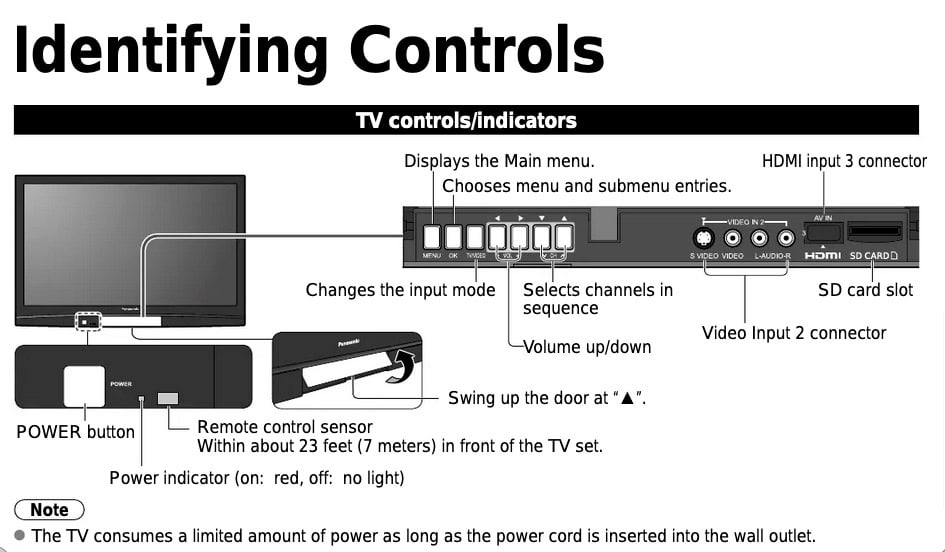 Most of the information that we've covered throughout the rest of this article will also apply to getting to the MENU on your TV without a remote (Except for the obvious exceptions, like using the timer functions that are there to turn the TV on and off, since there isn't a timer function to bring up the menu, and even if there was, you would need to be in the menu to set it up in the first place…)
Anyways, with that in mind, if you need to access your Panasonic television's menu and you don't have a remote, then your best option is to use the physical buttons on the television itself.
There is a MENU button, often on the back of your Television, so it can be tricky to see. The exact location will really depend. In the image above, you can see the power button is on the front of the TV and the rest of the controls are on the back of the TV at the bottom, whereas in the images at the top of this page, all of the controls including the power button are on the back of the television, and off to the side.